Require Reservation by July 31.
Reservation: yuichong@orgio.net (ICPOP)
Questions: Eunkyoung Kim, Ph.D.
ADVANCED MATERIALS DIVISION, KOREA RESEARCH INSTITUTE OF CHEMICAL TECHNOLOGY,
P.O. BOX 107, YUSUNG, TAEJEON, 305-600, KOREA
TEL: 82-(42)-860-7206,
FAX: 82-(42)-861-4151
email: ekkim@krict.re.kr

Tour 1 - Tuesday (Aug. 21): Marado (10 hr)
Depart Hotel Shilla at 8:50 am.
Guided tour to Marado, Suwolbong, Pun Jae Artpia, and Mt. Sanbang.
Lunch: Korean style
Costs: US $ 50.
Marado
The southernmost island of Korea, Marado is surrounded by steep cliffs and offers a grand view. The precipitous cliffs and rock formations, the ocean tunnel and caves form a magnificent view. The total length of Marado's coastline is 4.2km. Total time to tour the island by walk is around 1- 2 hr. The Marado Lighthouse and the Cheonyeodang, a temple for wishing divers safety, and Marabungyo(branch school) are other sites of worth visiting.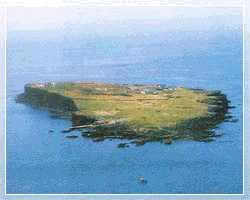 Suwolbong
Suwolbong is small mountain of 77m sea level with large plain projected to the sea in the coast of Gosan-ri Hangyeong myeon. Sunset from Suwolbong is very beautiful scenery, coloring the front sea with redblack. Especially the cliff toward the sea forms precipices connecting about 2km towards north. This is called Eongalli, and also famous for its spa from all over the rocks with its spring waters.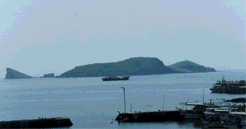 Pun Jae Artpia
The art of Bonsai which is called Punjae in Korean, was introduced to Korea from China over 700 years ago. The Punjae Artia is the dream of Mr Bum Young Sung who did the planning and construction. The collection consists of approximately 2,000 Bonsai of about 100 species which are displayed in a beautiful garden and indoor displays. Amid the rapid development in the Korean economy since the 1970s, Bonsai too, has made great progress. The Korea Bonsai Association was founded in 1984, and the world's largest Bonsai park, Punjae Artpia was opened on Cheju Island in July 1992.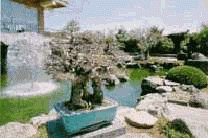 Sanbanggulsa Temple - This cave temple is located on Mt. Sanbangsan (395 m), west of Hwasun Port. It is one of the 12 scenic splendors of Cheju Island. All year around, crystal water drips from the center of the cave ceiling like tears. From the cave, you can see Hyeongjedo (Brother Island), and at a distance over the horizon, Gapado Island and Marado Island (the southernmost territory of Korea). Mt. Sanbangsan is designated as Natural Monument No.376 for the plants growing on its cliffs.

Tour 2- Friday (Aug. 24): Udo
Depart Hotel Shilla at 9:00 am Back at 18:30.
Guided tour to Udo, Songsan Sunrise Peak, and Sopjikoji.
Lunch: Korean style
Costs: US $ 50.

Udo (Cow) Island
Udo is an island 3.5 km northeast of Songsan Ilch'ulbong. The name comes from its shape, said to resemble a cow lying on the grass. Local natives speak of Udo P'alkyong, the "8 great things of Udo," meaning that everything is beautiful here: heaven and earth, night and day, front and back, and East and South. The scenic hill, which would be the back of the cow, is one of the "Udo-palkyeong" (Eight Scenic Spots of Udo). The most famous of the eight spots is the cave named "Gwandae-koji" situated at the southeastern edge of the islet. The reflection of the sunlight on the caves ceiling is the image of a full moon. Also called "Dalgrian" (illustrated moon), the moon can be seen only on calm days of October and November.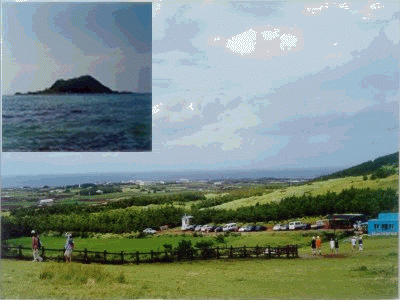 Songsan Sunrise Peak
Sunrise Peak is a volcanic cone perched out on the eastern tip of Jeju Island and is one of the ten most spectacular scenes of Jeju. The views of the sunrise are breathtaking the summit, which is accessible by a stone path from the western slope. The peak is 182 meters above sealerel and the view from the peak of yellow rape flowers in spring is spectacular. The rim of the crater is adorned with 99 craggy rock pinnacles reminiscent of a king's crown. Sunrise Peak is designated as Jeju Treasure No.36.

Sopjikoji
Sopjikoji near Shinyang Beach, the best place for wind surfing, the beautiful sight of Sopjikoji comes into a view. The word "koji" means a small gulf in Cheju dialect. Different from other Cheju coasts, the Sopjikoji is covered with reddish volcanic ash known as "songi". The appearance of the submerged strangely formed rocks seems to be the exhibition of marine rocks.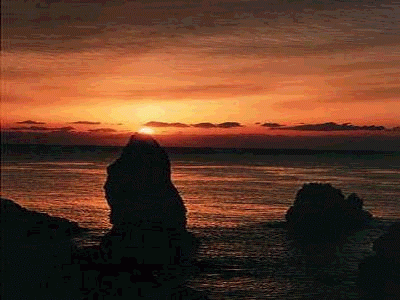 Tour 3-Thursday (Aug. 23): Horseback Riding/Hunting (4 hr)
Guided tour to Yeomiji Botanical Garden, Horseback Riding, Hunting (optional).
Costs: $ 60
Horseback riding in the great outdoors is the best way to get rid of the stress of city life. It is popular because no particular skill or experience is required. It has almost become a mandatory experience for honeymooners. The jorangmal (pony) is a small, easy to ride and known for its endurance and quickness.
Hunting
Due to its gentle slopes, deep and rough valleys and dense forests Cheju provides finest hunting grounds and fauna such as roe deers, pheasants, badgers and wild rabbits.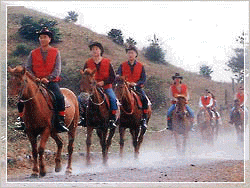 Yeomiji Botanical Garden, located in the Jungmun Tourist Complex, contain 2,000 varieties of flowering plants and trees. More than 1,700 kinds of semi-tropical plants grow outside. There are exhibits of the traditional landscape styles of Japan, Italy, France and Korea, as well as Jeju Island. A tourist train with 60 seats runs through the grounds. A 38-meter-high observation tower at the center of the greenhouse allows one to see as far as Marado when the weather is clear.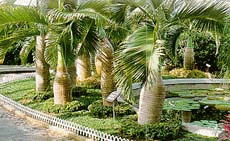 Tour 4-Thursday (Aug. 23): Boating/Submarine tour (2 hr)
A trip to the undersea world of clear water, coral, seaweed and many kinds of tropical fish will be a chance for an exciting adventure aboard either a glass-bottom boat or a tourist submarine.

Costs: $ 55



Tour 5-Golf (5 hr)
The magnificent view of Mt. Halla and the year-round green grass of Cheju makes golf the leading leisure sport activity on the Island. Cheju's golf courses have excellent fairways and scenic surroundings. Cheju hosts many international golf. Open 05:00-15:30 in summer and 07:30-13:00 in winter. Notify us your preferable date and time.
Costs: ~ $ 110 (Green fee) + Caddy and cart (~ $40) extra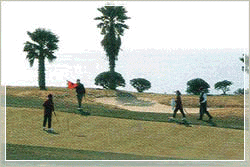 Others: Fishing, Hiking Trails on Mt. Hallasan, Scuba Diving, Paragliding, and Windsurfing are available. We will arrange upon your request.