Conference Tour (4 hr)- Wednesday (Aug. 22)
Depart Hotel Shilla at 2:00 pm. Back at 18:00.
Guided tour to Jungbang Waterfall , Cheju Folk Village, Yakcheonsa, and coast drive by bus.
Costs: Free

Cheonjiyeon Waterfall
One kilometer from Seogwipo Port, visitors see a valley with many curious rock formations and tropical forest. At the end of the valley, 22 meter-high and 12 meter-wide Cheonjiyeon Waterfall presents you with picturesque view of falls a large quantity of falling water. Local myth claims that heavenly nymphs often bathed under this fall which is surrounded by verdant subtropical vegetation. Cheonjiyeon Pond is the only habitat in Korea of Mutaejang-eo, a type of eel, which was designated as Natural Monument No. 258.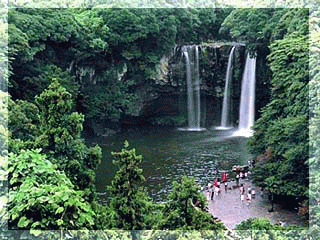 Jeju Folk Village
A reproduction of a traditional Joseon era village on the Island. It is an area of 157,100㎡ with a fishing village, outdoor exhibition of fishing tools, a stage for shaman rituals and the House of Intangible Cultural Properities. 81 traditional thatched roof houses form the village. There are a total of 117 buildings.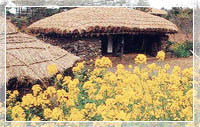 Sangumburi crater
Sangumburi is a large crater that measures over 100m deep and 2km in circumference. Inside are more than 420 species of rare plants, mammals, and reptiles. Unfortunately, visitors are not allowed to enter inside. Instead, tourists have to be satisfied with looking inside Sangumburi through a telescope and walking around the edge of the crater. Sangumburi crater has been designated Natural Monument No. 263.